In this guide, we will show you how to set up your HD IP Bird Box Camera on your Windows computer.
Software Installation 
Download the latest version of the windows PC software using the link below. 
Connect to IP Camera
1. Click on the CMS5 icon to launch the programme, a dialog will appear. Key in the username and password to enter Main console.
(username: admin password: admin) 
2. In the "Main" view, Click "Device Manage". 
3. Click the "IPV4 search" button. The available devices will display on the section at the top. 
4. Mark the checkbox in front of the IP address, 
5. click "Add " button. The IP camera will move into the box below.
6. Click the pen icon under "operation", a new dialog pop up, name the camera, Click "OK" to save.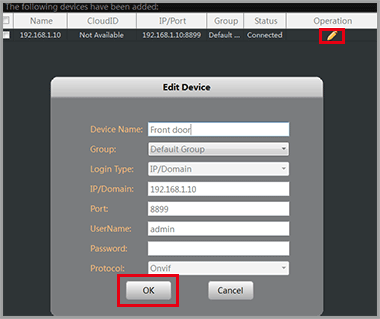 7. Once the software has connected the camera successfully, the "Status" will change to "connected"

You have not configured the camera, next we'll show you how to watch it. 
Accessing the Live View 
1. Click on the "home" icon.
2.  Click "monitor" to view the camera.
3. Double click on the name of the camera to start the live view.