Purpose of The Guide
In this guide, we will show you how to set up your wired IP bird box camera on a Windows or Apple computer.
TABLE OF CONTENTS
Before You Begin
Make sure you have a Windows or Apple computer available that is connected to the same internet network that you intend to connect the camera to. This program is not available for other operating systems.
Download and install CMS5 (for Windows) by clicking on this link or VMS (for Macs) by clicking this link. If installing on a Mac, make sure to drag the application file onto your desktop instead of into the applications folder. Mac computers may also stop the program from being installed because it is an unrecognised developer, see this article to allow the installation: https://support.apple.com/en-gb/guide/mac-help/mh40616/mac
If you are using a Mac on the Big Sur OS, you will need to give the program permission by going to System Preferences > Security > General.
Connecting the camera to your computer
1. Click on the CMS5/VMS icon to launch the program, a dialog will appear. The username and password will be auto-filled, but by default the username and password are both admin.
2. In the "Main" view, Click "Device Manage". 
3. Click the "IPV4 search" button. The available devices will display on the section at the top. 
4. Mark the checkbox in front of the IP address, 
5. Click on the tick box next to the device that appears in the list then click the "Add " button. The IP camera will move into the box below.
6. Click the pen icon under "Operation" and a new window will pop up. Here you can name the camera if you like, then just click "OK" to save it.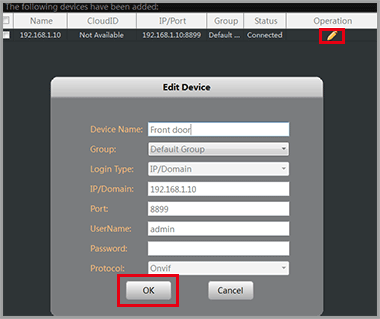 7. Once the software has connected the camera successfully, the "Status" will change to "connected"

You have now configured the camera, next we'll show you how to watch it. 
Viewing the live camera feed
1. Click on the "home" icon.
2.  Click "monitor" to view the camera.
3. Double click on the name of the camera to start the live view.